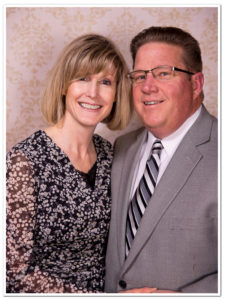 Pastor Rossi and Mrs. Rossi grew up in the same suburban community in Valley Forge, Pennsylvania. They initially met in an eleventh grade class and both graduated from Upper Merion Senior High School in 1981. Both were introduced to ritual religious ceremony as children, but neither found salvation in Christ until early adulthood. Pastor enlisted in the Air Force Medical Service soon after graduation while Mrs. Rossi pursued her BS in Nursing at the University of Pittsburgh. They were married in May, 1984. Mrs. Rossi received her bachelor's degree in May, 1985. While stationed at Elmendorf AFB, Anchorage, Alaska, Pastor and Mrs. Rossi were both wonderfully saved at Muldoon Denali Baptist Church.
Shortly after his salvation experience, Pastor surrendered to God's full-time call into Christian service during a Sunday morning church service altar call. In July 1986, Kaylah, their first-born, joined the family. In 1987, the family was relocated to the USAF Academy in Colorado Springs, Colorado, where they would join Cornerstone Baptist Church (CBC) in 1987. In 1989, Mrs. Rossi gave birth to their son, Philip. After nine years of military service, pastor was honorably discharged and began to attend Colorado Baptist College full-time.
After a year of secular work, Pastor was hired as a full-time assistant in 1990. The family was blessed with three additional children: Silas (1991); Jonathan (1993); and Serena (1995). Pastor Rossi graduated with a BA Degree in Pastoral Studies and was ordained the same evening, May 13th, 1993.
Pastor served a total of eleven years as an assistant pastor in Colorado (9) and Connecticut (2). During those years, He served in a myriad of positions. As principal of both Cornerstone Baptist Academy (K-12) and New Testament Baptist Schools (Pre-School-12); Dean of Colorado Baptist College; Church Administrator; Bus Ministry Director; Sunday School Director; Children's Church Director; Nursery Director; Prison Ministry Director; and Outreach Director to mention a few. All along, God was preparing their family to come to Cheyenne, Wyoming.
In September of 2000, Lighthouse Baptist Church (LBC) asked Pastor Rossi to candidate for the position of Senior Pastor. After weeks of preaching and prayer, the church voted unanimously the last Sunday of October 2000, to bring the Rossi family to Cheyenne to lead the church. They are as excited to lead LBC today, as they were the first day they arrived.